Citi Bank Rewards Card
Minimum Salary

AED 8,000

Salary Transfer

No

Islamic

No

Cashback

No

Annual Fee

0

Rate


3.25%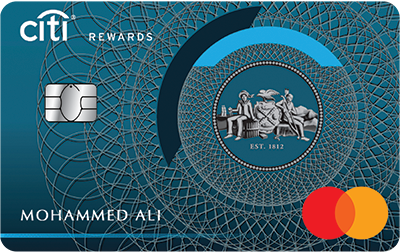 Description
With the Citi Rewards Credit Card you can convert your spend into cash rebate, shopping vouchers and much more. Get 'But 1 Get 1 free' movie tickets at Vox cinemas and instant cash loan at a click of a button with the Quick cash facility.
Features
Financial Features:
Annual Fees: No annual fee in year 1. From year 2, annual fee is waived unless the annual spend is below AED 9,000, in which case a fee of AED 300 will apply
Minimum Salary Requirement: AED 8,000
Retail Interest Rate: 3.25% will be charged on the outstanding amount on monthly basis after 52 days interest-free period
Foreign Currency Transactions Rate: 2.99% per month; Applicable to oversees transactions only
Balance Transfer Fees: Balance transfer at 0% rate of interest for 6 monthly instalments. One time processing fee of only 3% of the BT amount. No pre-closure fee
Repayment Period: 22 Days from statement date
Purchase Protection: Yes
Travel Benefits:
Airport Lounge Access: Unlimited access to 1000+ airport lounges for Primary and Supplementary card members via Lounge Key
Travel Medical Insurance: Complimentary Travel Insurance and Purchase Protection
Miles Program: No
Other Features:
Handpicked travel & entertainment items, available for instant redemption through an online rewards catalog
ThankYou Points:
Earn up to 1.5 ThankYou® Points for every USD of foreign currency spent and 1 ThankYou® Point for every USD of local currency spent (AED)
With your ThankYou® Points you have the flexibility to redeem for shopping vouchers, travel rewards, merchandise, and many other rewarding experiences such as:
Choose from merchandise ranging from apparel to electronics to home goods and more

Pay with Points for your purchases through SMS or Citibank Online
Leisure and Entertainment benefits:
Movie Tickets: Every month 2 "buy one, get one" complimentary movie tickets with VOX cinemas on any day of the week
Dining Privileges: Fine Dining program in partnership with 500+ dining outlets across the UAE
Other Features:
Exclusive offer ranging from lifestyle discounts to 0% payment plans

Citibank World privileges, Free Citibank alerting service and much more
Offers:
Apply for a Citi Rewards Credit Card before 31 Dec 2018 and get 100% waiver on Annual Membership Fee (AMF) of AED 300 for the first year and AMF reversal from the second year onwards if you spend AED 9,000 in the previous year.
Documents Required
Valid Passport & Visa Copy.

Emirates ID copy.

Salary Certificate addressed to Citibank.

3-month Salary bank statements.
Additional Info
All info mentioned can change at any point in time as per the discretion of the bank. The Bank will determine eligibility. All info above is subject to change.
*Citibank Terms & Conditions apply