If you frequently travel or if it's your favorite hobby, and are you looking for the best travel credit cards in UAE ?
It can save you money on bookings and make your travel more pleasant. Travel cards have benefits like air miles, skywards miles, and free cab rides.
For a frequent flier, two of the most important aspects to look out for are patterns of travel and spending habits. Although there is no perfect best travel credit card, you can look into your needs and choose the best one for you.
What's more important to you: access to more lounges or better discounts? No card will offer the best of all its features, so decide what's most important to you before making a choice.
List of Best Travel Credit Cards in UAE
Travel Credit Cards with No Annual Fee
Many people would rather not pay an annual fee for their travel credit card, regardless of any benefits that they might receive. Fortunately, there are plenty of options out there for those who feel this way.
Many travel credit cards offer great benefits with no annual fee attached. Do some research to find the card that best suits your needs and offers the most value.
FAB Signature Credit Card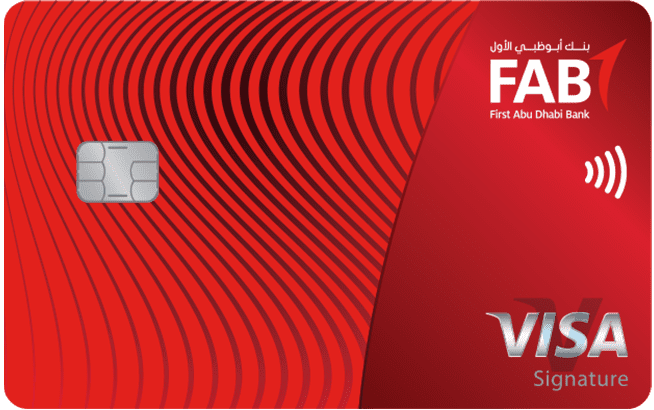 The FAB Signature credit card is a great option for people who want to earn unlimited benefits. With this travel credit card, you earn FAB Miles per AED 1 spent on flight tickets and hotel bookings worldwide. You need to have a minimum monthly salary of AED 5,000 to be eligible for this card.
Following are the travel benefits :
The card offers guaranteed travel vouchers of AED 1,000 when you use them for travel bookings through the FAB travel portal.
While traveling abroad, you don't need to pay any foreign transaction fees.
For hotel bookings through the FAB Travel portal, you get complimentary night stays.
The card also offers free access to over 1000 airport lounges worldwide.
When traveling from UAE by British Airways, you get up to a 10% discount through the FAB Signature credit card.
You also get up to 5 complimentary airport transfers every year, no matter which airport you use in the UAE.
FAB Signature credit card also secures your travel against travel accidents and inconveniences.
2. FAB Infinite Travel Credit Card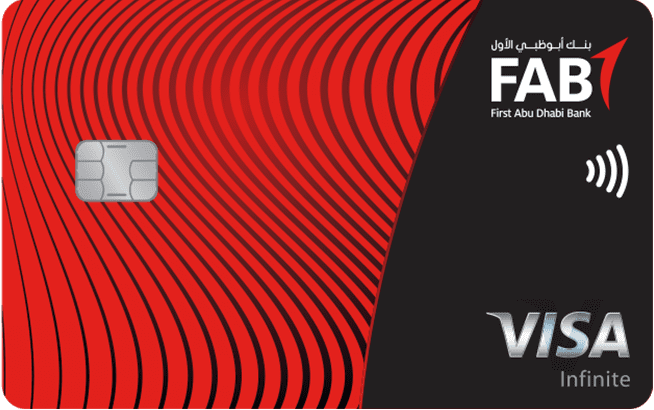 The FAB Infinite credit card offers a number of great benefits for those who love to travel. For starters, you'll receive guaranteed travel vouchers worth AED 1,500. You'll also earn FAB Miles as you spend, which can be redeemed for discounts on travel and accommodation bookings. Plus, with a minimum monthly salary of AED 30,000, this card is perfect for those who want to make the most of their salary.
FAB Infinite credit card offers the following travel benefits.
For international transactions, you don't need to pay any foreign transaction fee except for currency conversions.
Using the best travel credit card, you get up to 6 complimentary airport transfers every year for a fare of up to AED 100.
The card also offers up to 6 complimentary Meet and Greet services per year from AED 40 for individual bookings and AED 100 for family bookings.
With the FAB Infinite credit card, you get complimentary access to over 1000 airport lounges across the globe.
To secure your trips and travels, the card also offers complimentary travel insurance of up to AED 1 million in case of travel accidents and inconveniences.
Using FAB Infinite credit card for travel bookings, you also get travel and medical assistance.
3. FAB Elite Infinite Credit Card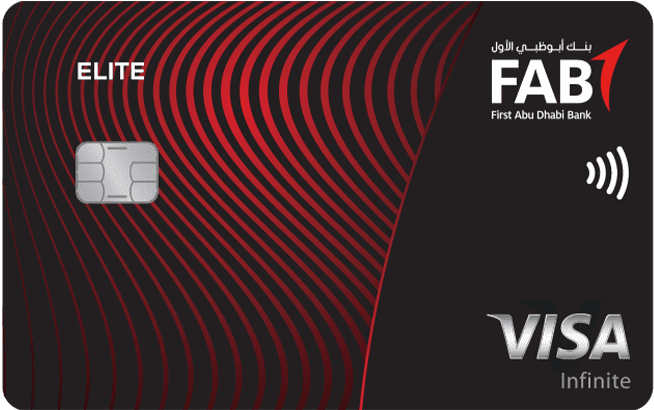 The FAB Elite Infinite credit card gives you great travel benefits like discounts on flights, hotels, car rentals, and airport transfers. You'll also get a range of lifestyle, entertainment, and other privileges worldwide. Plus, you get loyalty benefits in the form of FAB Miles. You can convert and redeem them at various merchants and outlets.
Here is a list of travel benefits offered by FAB Elite Infinite credit card
While activating the card and using it for travel booking at the FAB Travel portal, you get a welcome travel voucher worth AED 2,000.
While traveling abroad, you don't need to pay any charges for foreign transactions.
For every three paid nights at hotels, you get one complimentary night.
Along with discounted flight tickets, you also get free access to over 1000 airport lounges across the globe.
With the FAB Elite Infinite credit card, you also get international Uber airport transfers up to 8 times a year. Additionally, you get up to 12 free airport transfers within UAE.
The card also offers up to 30% discounts on Meet and Greet services at over 450 locations worldwide.
As a FAB travel credit cardholder, you get international travel concierge services round the clock.
For car rentals, this travel credit card offers up to 35% discounts on each booking at Avis Car Rentals.
4. HSBC Platinum Select Credit Card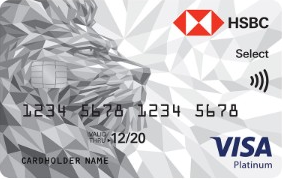 The HSBC select platinum credit card offers a variety of benefits for those who love to travel. In addition to air miles, clients can also enjoy cinema benefits, dining discounts, and hotel perks with zero FIP (Flexi installment plan). By using this card, you can easily rack up rewards that can be redeemed for future travel.
 The benefits of the air miles include the following
To pay for your tickets, including the taxes
You can choose which, when, and how to fly with. It means you can choose the airline, date and time, and the preferred class (first, business or economy)
Dates aren't blacked out which means that if there is a seat available on the flight, you can book it through the air miles travel shop.
To be eligible for this best travel credit card, the minimum salary required is AED 5000. The applicant must be a salary transfer customer between the ages of 21-65.
5. CBD Titanium MasterCard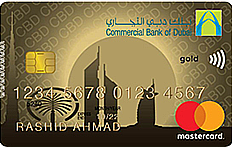 Out of all of the free credit cards available in UAE, the CBD Titanium MasterCard is one of the best. The requirements for applicants are that they must be 21-65 (UAE nationals) and 21-60 (ex-pats). The minimum salary required is AED 10,000 for the salaried individual. However, this card comes with a few great perks, such as access to airport lounges, CBD rewards, and free-for-life.
The benefits of CBD Titanium MasterCard are:
Access to 10+ VIP lounges in UAE, KSA, Jordan, Egypt, and Kuwait
With the MasterCard Buy-one-get-one app, customers get complimentary offers in the Middle East and Africa on attractions, dining, etc.
It also provides hospitality, dining, wellness, travel, and lifestyle benefits
6. Deem Mastercard Platinum Miles Up Credit Card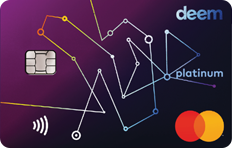 The Deem credit card can offer some great perks for those who frequently travel. Some of these benefits include flight and hotel bookings, lounge access, and more. In order to be eligible to apply for this card, you must earn a minimum of AED 10,000 in salary per month.
 Here is a quick overview of the travel benefits offered by the Deem credit card:
3x Miles Up on flight and hotel bookings
Complimentary access to 25+ premium airport lounges in the Middle East & Levant
Discounts on car rentals and Careem rides
Up to 30% discount on bookings made through Cleartrip
Related: Best No Annual Fee Credit Cards in UAE 2022 (Updated) | C4B
Credit Cards With Travel Insurance
1. ADCB Traveller Credit Card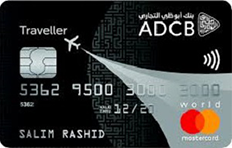 The ADCB traveler credit card is perfect for people who love to travel. With this card, you'll get 20% off on both flights and hotels, plus there are no usage charges when you use it abroad. You'll also get a complimentary stay for up to 6 nights, and you can access airport lounges and get discounts at Starwood Hotels and Resorts.
Benefits Are,
ADCB traveler credit card offers one of the best travel insurance in UAE.
Up to USD 500,000 of Medical emergency expenditures and personal accident insurance
Up to USD 100/day of cash benefit for in-hospital daily
Up to USD 3000 insurance for loss of baggage (with no deductions)
Up to USD 300 in case the customer's baggage is delayed
2.Emirates Citibank Ultima Credit card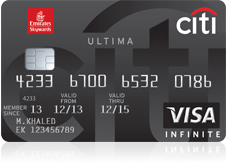 With this card, you can earn 25,000 skywards miles as a welcome bonus. You'll also earn 10,000 skywards miles when you pay your yearly membership fee of AED 3000. The card provides the best travel insurance also. And for every AED spent on purchasing tickets online at emirates.com, you'll earn 2.5 skywards miles.
Benefits Are,
Skywards miles as a welcome gift
Free access to more than 1000 airport lounges to you, your guest, your supplementary card owners, and their guest.
For your family members above the age of 15, you can take free supplementary cards.
You will also get offers on dining, movie tickets, concierge, golf, etc.
Travel insurance is complimentary with this credit card.
3. Citi PremierMiles World Credit Card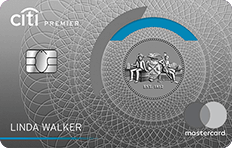 The annual fee for the Citi PremierMiles World Credit Card is AED 750. In order to be eligible for this travel credit card, customers need to earn a minimum salary of AED 15000 every month. Travel insurance is one of the rewards that this card offers.
Benefits Are:
Travel Insurance
Complementary access to airport lounges
Dining discounts
Supplementary credit cards for the family
Travel Credit Cards with Reward Values
1. CBD World MasterCard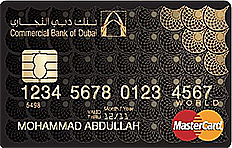 If you're looking for a great free credit card in the UAE, the CBD World Master credit card is a great option. To be eligible to apply, you must be between the ages of 21 and 65 if you are a UAE national, or 21 and 60 if you are an expatriate. The minimum salary required is AED 40,000.
Reward Value:AED 16,239
Benefits of the Commercial Bank of Dubai World MasterCard include:
Access to more than 850 VIP airport lounges is free internationally.
For every Dirham spent using this credit card, you earn reward points.
The primary card is free for the first year.
You get up to 15% discounts and special privileges in luxury serviced apartments.
With Marriott Bonvoy hotels, you can get complimentary hotel nights.
You get discounts when you book your flights using Cleartrip.
2. Standard Chartered Visa Infinite Credit Card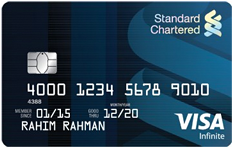 This travel credit card is one of the best in UAE. You will need a minimum salary of AED 30,000 per month and to be aged 21-60 to apply. The annual fee on this credit card is AED 1575 but the first year is free.
Reward Value:AED 11,101
The benefits of the Standard chartered visa infinite credit card include:
You redeem 5% of the purchase when you use your credit card on Etihad, Emirates, and Virgin Atlantic.
When you show your Visa Infinite credit card at 900+ airport lounges worldwide, you and your guest can enjoy unlimited access to the lounge.
You can enjoy discounts up to 12% when you book a hotel through Hotels.com. For the discount, you will have to use the promo code SCBUAE12.
You get complimentary travel insurance when you use your Visa Infinite travel card to pay for your travel.
3.ADIB Etihad Gold Card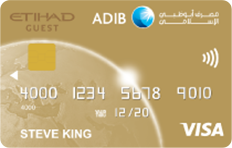 The ADIB Etihad Gold Card is one of the best reward credit cards in the UAE for its high welcome bonus of 35,000 guest miles. You can earn 1.5 air miles on international spending and 1 air mile on domestic spending for every AED 4 spent. Plus, you can withdraw 100% of your credit limit as cash.
Reward Value:AED 11,101
The benefits of the ADIB Etihad gold card include:
Voucher for a free companion ticket- The best feature of this travel card would be the free ticket for the companion. When the Etihad gold card has been used to spend AED 150,000 or above, the customer gets a free companion ticket voucher. This voucher can be used to fly on any one of the flights of Etihad airways. The voucher holder can use it to travel to any destination, any time, and in any class. No other best travel credit card in the middle-east offers free tickets to the companion.
ADIB Etihad gold card also offers access to 850 VIP airport lounges in the world. Up to 2 times a year, you can avail the lounges for free.
Also, you can gain quick access to the Etihad silver tier when you use your Etihad gold card for 4 return flights within a year.
4. Mashreq Platinum Elite Credit Card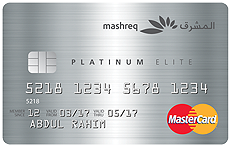 The Mashreq Platinum Elite Credit Card is a great choice for people who travel often. Some of the benefits include good travel rewards and waived annual fees for the first year. The minimum salary requirement is AED 7000.
Benefits of Mashreq Platinum Elite Card-
Get AED 1000 cashback for new customers
20% cashback on Zomato, Netflix, Talabat, Noon, Etisalat, iTunes, Du, Dubainow
Earn up to 5 Salaam Points per AED on dining, supermarkets, etc. locally or outside UAE
Redeem Salaam Points for Skywards Miles
8 Free access to Fitness First clubs
Free access to airport lounges worldwide
3 Free airport transfers in Dubai & Abu Dhabi per year
5.RAKBANK Mastercard World Credit Card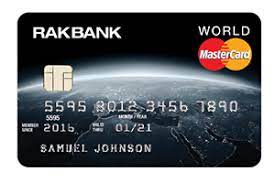 The RAKBANK Mastercard World travel credit card comes with some great perks and benefits. You can rack up rewards points just by using your card, and those points can be used to get discounts or freebies later on. Plus, there's no annual fee, so you can use your card without worry.
Reward Value: AED 23,443
Benefits:
Travel Discount
Free for 1st year
Special Discount
Vehicle Registration & Servicing Pick-Up/Drop
Related: Best Air Miles Credit Cards in UAE 2022 | Compare4Benefit
 What Is a Travel Credit Card?
A travel card is a great way to save money on your next vacation. By earning rewards, miles, or bonuses, you can get discounts on airfare, hotels, and car rentals. Additionally, many travel cards offer perks like priority boarding or free checked bags. In short, a travel credit card can help make your next trip more affordable and hassle-free.
Travel credit cards offer cardholders special privileges and valuable rewards. These reward points come in two types. First, some travel credit cards may provide a signup bonus or welcome points to new cardholders. Second, the travel credit card offers reward points for spending a certain amount, often including a bonus for purchase from the co-brand hotel or airline partner. Once the cardholder earns enough reward points, they can redeem them for discounts on air tickets, hotel bookings, car rentals, and various travel-related transactions.
Features and Benefits of Travel Benefits Credit Cards
There are a lot of benefits that come with using a travel credit card. From getting sign-up bonuses to free access to airport lounges, these cards can really help make your travels more convenient and enjoyable. If you're a frequent traveler, then definitely consider getting a travel credit card to make your trips even more seamless and enjoyable.
Welcome Gift: Most travel credit cards offer reward points as a sign-up bonus or welcome gift. Those reward points further can be redeemed for the air miles at domestic as well as international airlines.
Free Access to Airport Lounges: Some of the best credit cards offer complimentary airport lounge access at a wide range of airports. In case of delayed flights, the cardholder can sit, relax, and enjoy light refreshments.
Supplementary Cards: Cardholders can opt for unlimited supplementary cards for their eligible family members. The supplementary cards don't attract any additional fee. The cardholders can set the spending limit on each of the supplementary cards.
Travel Insurance: Some travel credit card issuers provide complimentary travel accident insurance cover to the cardholder. In addition to this, they offer compensation for the inconvenience caused due to missed or delayed flights and loss of checked-in luggage.
Complimentary Movie Tickets: The majority of the travel rewards credit cards offer Buy 1 Get 1complimentary movie tickets every month that can be availed any day of the week.
Golf Benefits: Travel credit cardholders can also play a complimentary round of golf once a month at specific golf courses in the UAE.
Annual Fee Waiver: Most credit card applicants search for a travel card that doesn't charge annual charges.
Eligibility Criteria to Apply For Travel Credit Card
The eligibility criteria to apply for a travel credit card vary from bank to bank and from one card to another. Listed below are the major criteria to obtain a travel card:
The applicant's age should be between 21 years to 65 years.
Applicants should have a steady source of income.
The applicant should have an address
Emirati applicants should have Emirates Id. Expats need to provide other documents such as passports and the resident permit.
How to Apply for Travel Credit Cards in the UAE?
The credit card application process is very easy. The applicants can apply for travel cards offline as well as online.
Apply for a Travel Credit Card Online
Before an applicant applies for a travel credit card, they must ensure they meet the eligibility criteria by checking the requirements on the official website of the bank. They can apply for a travel credit card that suits their needs by clicking on the apply button on the online application page and providing all the required details.
Once the bank has received the credit card application and if the applicant's profile meets the eligibility criteria, a travel credit card representative will reach out within 3-5 working days. They will guide the applicant through the next steps of the application process, including what documents are needed and how to submit them. If all required documents are successfully submitted, the credit card application will be processed within 7-10 working days.
Apply for a Travel Credit Card Offline
Individuals who are not comfortable with the online credit card application process can alternatively apply for a travel card at their nearest bank branch. There, a bank representative will guide them through the different travel credit card options and help them choose the one that best meets their expectations and budget.
After selecting the card, they will need to fill out a travel credit card application form and provide the required documents, such as identity proof, proof of income, and address proof.
How to Find the Best Travel Benefits Credit Card?
There are a lot of different travel credit cards out there, and it can be hard to know which one is right for you. The best travel credit card offers rewards or miles that you can redeem for things like flight tickets, rental cars, or hotel bookings.
And of course, who doesn't love getting discounts on their travel-related transactions? When you're trying to choose the best travel credit card for your needs, make sure to consider things like what kind of rewards you're looking for and what kind of spending you typically do when you're on the road.
here are some factors that applicants ought to consider when choosing the right travel credit card.
Welcome or Sign-up Bonus: Most travel credit card issuers provide exciting sign-up bonuses. The applicants must compare the signup bonus when choosing the best travel card. The sign-up bonus can help the cardholder avail great discounts on their flight tickets, hotel bookings, etc.
Annual Fee: There is no doubt that the travel credit card with an annual fee offers extra privileges and rewards as compared to the one with no annual fee. Also, credit card experts advise comparing the value of the rewards and bonuses to make sure they are worth paying the annual fee.
Rewards Rate: All travel credit card issuers offer enticing rewards and bonuses on their cards. When choosing the right travel credit card, it is very important to know how many miles will be earned per dirham spent. Also, the applicant should know the value of those miles.
No Foreign Transaction Fees: If the applicant frequently visits foreign countries then it is very important to choose a card that doesn't charge foreign transaction fees.
Travel Protection: The cardholder should opt for the travel card that provides maximum travel protection such as reimbursement for trip delay, loss or damage of checked-in baggage, trip cancellation and interruption protection, travel accident insurance, etc.
FAQs
Can I use a travel credit card for anything?
You can use them like you would any other credit card. And you can also earn rewards, usually in the form of points or miles. Generally, you can earn rewards by making everyday purchases—think clothes, gas, and electronics. Once they add up, you can redeem them for travel-related purchases.
When should you open a travel credit card?
Apply for a card at least five months before your trip. That will give you time to get the card, earn the bonus, and book travels with points.
Can you get a travel credit card as your first credit card?
Likely no, but you can offset travel costs by joining loyalty programs and opening a cash-back card in the meantime. Many or all of the products featured here are from our partners who compensate us
Is it hard to get approved for airline cards?
In general, co-brand airline credit cards are some of the easiest credit cards to get. For most cards, you need a credit score in the mid-600s, but 670 or above is best. Even if your score is only above 600 but not quite 670, you still have good approval odds for cards that don't have an annual fee
How do I transfer money from my travel card to my bank account?
Insert your travel card into any ATM in another nation and follow the instructions to withdraw money. Making a withdrawal is as simple as using your regular bank card. You can transfer money preloaded on your card to a Bank transaction account by connecting to the Bank app or using the Net Banking service.
Can you withdraw cash from your travel card?
Yes, you can. You can use any ATM that accepts Mastercard. Fees will apply for every cash withdrawal, these fees are detailed online or in your welcome letter.
Related:
13 Airport Lounge Access Credit Card in UAE
Best Air Miles Credit Cards in Uae 2022
Cash Back Credit Cards In UAE 2022