Here's everything you need to know about debt consolidation loans in UAE.
A Debt Consolidation Loan allows you to combine all existing credit card debts and personal loans into a single loan with a lower interest rate.
What is Debt Management Plan?
A debt management plan (DMP) is a debt strategy that helps individuals to settle their loans at a manageable cost.
The main advantage of getting a debt consolidation loan is debt management. You pay off all your credit cards and personal loans at once, in exchange for just one monthly payment to your bank at a lower interest rate.
You also have the option to make smaller monthly payments by stretching out the loan tenor up to 7-10 years.
Types of debt that you can consolidate under a debt consolidation plan
The following types of debts can be consolidated :
Credit Card Debt
Personal Loans
Credit Lines
Banks offering Debt Consolidation Loans in UAE
Consolidation is one of the most powerful tools for debt elimination.
Abu Dhabi Islamic Bank [ADIB] Debt Consolidation Loan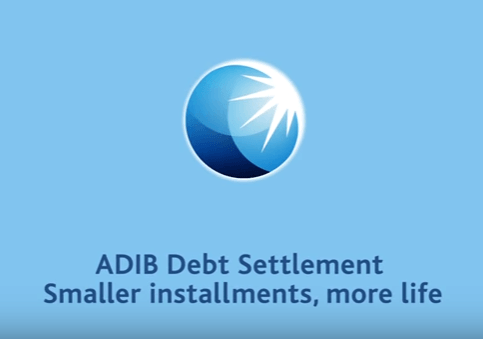 Features of Abu Dhabi Islamic Bank Debt Consolidated Loan
Flexible repayment option.
It is possible to postpone installments twice in a year for free.
Avail a grace period of 90 days for the first installment.
Easy processing and huge finance amount
Get pre-approved ADIB Visa Cashback Card (Free for 1 year).
Attractive profit rates.
Zero processing fee.
2. Mashreq Bank Debt Consolidation Loan
Features :
Salary transfer is required.
Huge loan amount (Up to 1 million AED for expats and 5 million for UAE nationals)
Flexible loan repayment tenure (48 months).
Reduced interest rates.
Avail a grace period of 120 days for the first installment.
3.FAB Debt Consolidation Loan
Features of FAB Debt Consolidated Loan
DBR above 50% is considered. (Exclusively for UAE Nationals)
Competitive interest rates.
Salary transfer is mandatory.
Most Flexible payment option – Up to 12 years.
Who Qualifies for a Debt Consolidation Loan in UAE?
To qualify, you must be a salaried employee with an annual income of more than 7000 AED. Depending on the bank, you may need to meet a higher minimum income requirement.
DBR [Debt to burden ratio ] should be less than 50%.
Applicant must be a resident of the UAE.
Should have unsecured debts to consolidate.
You can only have 1 DCL active at any one time.
It's important to note that once you are enrolled in an active Debt consolidated loan, you cannot apply for a new credit card or loan in UAE for some period of time.
Documents Required for debt consolidation loan in UAE
Salary transfer letter as per bank format.
Residence visa and passport copy.
Latest income statements. (3-6 months).
Valid Emirates Id.
Latest credit card and unsecured loan statements.
.
Frequently Asked Questions :
Who can apply for a debt consolidation plan?
  Only UAE citizens and expats with a valid visa and passport are eligible for a debt     consolidation plan. On top of these, the bank offering debt consolidated loan may have     further requirements while assessing your eligibility.
2. How much will you owe the bank under a debt consolidation plan?
 After calculating your outstanding bills and interest, banks will add up some more interest charges for your first debt consolidation loan.
3. What kinds of debt can't be consolidated under DCP?
   Secured loans like car loans and housing loans cannot be consolidated under DCP.
4. What else should you be aware of?
  If your outstanding bills are very high, there's a chance that your approved DCP loan amount is not enough to cover all your debts.
5. Do consolidation loans hurt your credit score?
Debt consolidation loan can hurt your credit score in several ways, depending on which method you use. Debt consolidation loans normally  do not appear on your credit reports but sometimes banks may ask you to close your credit accounts which may impact your credit scores.
Lowering your debt may help your credit score over time.