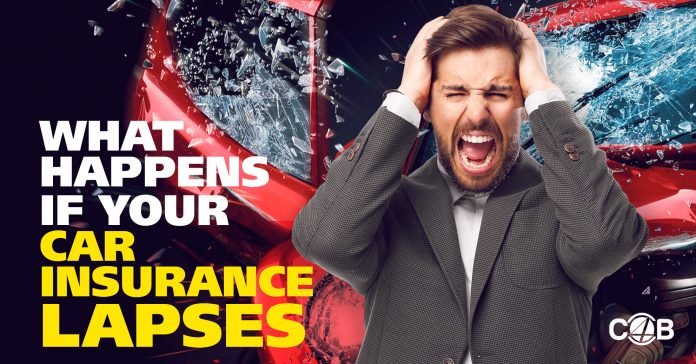 Keeping your car insurance updated is essential to avoid exposure of unwanted problems like penalties, fine and higher premium rates during renewal, so you need to make sure you revive your car insurance plans before few days for the coverage.
In the case, you forget to renew, and your Auto Insurance got expired then you should focus on things like what should be done immediately before facing in-depth issues.
Related: Buy Car Insurance from Compare4Benefit and Save up to 1200 AED on Car Insurance.
This blog will let you know about the Auto Insurance Lapsing factors you need to follow in a detailed and straightforward way.
Car Insurance Lapse – Getting Started
So what do you mean by an Auto Insurance Lapse? It says your vehicle does not fit to your State Coverage Limits, and the car insurance industry recognizes your lapse period until fewer characteristics namely
● When the car registration lapses
● When you capitulate your vehicle plates
● When you buy a new auto insurance coverage
● When you have reinstated your car insurance coverage.
● Providing any paperwork or proof that your vehicle is repossessed.
● Shifted to a new state or country and have purchased for the coverage limits in particular place.
What is some significant reason for the Auto Insurance Lapse Coverage?
Car owners get their auto insurance lapsed in the following conditions.
● When they forgot to renew their car insurance
● In the case of car owners skipped paying their premium car insurance plans.
● In the Instance of the drivers making late payments.
● In the case of any consequential accidents and disasters.
● In the Instance of too many records on drivers regarding traffic rules violation.
If your Auto Insurance companies failed to hold on your insurance plan then its mandatory you purchase a new insurance policy before the old get lapses. If you have decided to switch for an another Insurance Policy agent, then you need to be more careful regarding the providers and make the arrangements in a way that you are not going to face this auto insurance lapse in the future.
The result of an Auto Insurance Lapse
As discussed before a vehicle insurance lapse lead you to life-threatening problems, this would be okay until your Insurance companies did not find that your car does not have any access for the state minimum requirements. In the case of your insurance providers getting your insurance Lapse then you will be subjected to severe penalties, and this gets varied based on the states or country.
Some of the common penalty factors if your Auto Insurance Lapse includes
● Suspension of your vehicle registration, in this case, you will not be able to drive the vehicle anywhere in the world.
● The license of the Driver will be suspended in some cases; you have to face thousands of hurdles before getting a new driver license for you.
● Suspension of SR-22- which is considered to be the proof that your car has all the access to be driven and has all the needed requirements as per the state law.
● You need to pay a high reinstatement fee along with fines for getting a new Auto Insurance policy.
There are many possibilities for the drivers to stop driving if you are operating with the old insurance and this also results in
● Increased premiums
● Suspension of Driver License
● Community Service
● Fines
If you cause an accident and uninsured when driving, then you will be the one who is responsible for all injuries and damages, this will be a critical factor to your financial budget and also more devastating.
Few Presumption of getting future Insurance
Purchasing a new insurance policy has many conditions if you have left a gap in renewing,
● There is a chance for your auto insurance agents to increase the rate.
● Auto Insurance providers can mark you as the High-risk Driver and neglect the premium insurance coverage; this may be a significant disadvantage for the ones who are driver by profession.
● If you are labeled as a high-risk driver then automatically you need to pay higher premium insurance rates which can be a most challenging task.
How to Handle your lapsed Policy?
If you come to know about the lapsing of your Auto Insurance policy, the first thing you need to perform is to contact your insurance agent for the simple steps to process without getting any penalties or life-threatening problems.
If your car insurance expiry period is short, then the insurance providers can help you in renewing your policy without high penalties, in the case of longer lapsing, you might feel difficulties in policy reinstate.
If you have applied for the renewal, wait until you get the insurance policy back to you. Do not drive in that period so that you can be saved from huge fines or penalties. In case your insurance provider provides you with an online payment system then there are multiple ways to get your new insurance card within a shorter period.
What to do if your policy is Cancelled?
If your insurance providers canceled your Auro Insurance policy due to reasons like excessive tickets, traffic offenses or for not paying your premiums then automatically reinstated coverage will be canceled.
In this case, you need to purchase a new insurance policy from another insurance agent. Make sure you are choosing the right Insurance agencies when renewing as few companies have a chance for taking this reason as their favorable positions and provide higher premium coverage. You can check out the quotes from many Auto Insurance companies online, check it and then go for the preferred one.
Tips on Purchasing a New Insurance Policy
Auto Insurance Providers calculate the rate as per your risk and responsibility factors, not having insurance means you are not an accountable driver and this will result in higher premium rates.
Go for the Insurance plan that provides a low insurance rate even for the drivers who are labeled as high-risk ones. There are many similar plans out there; the important thing is to find them and then get it as per your requirements.
How to Avoid Future Lapses
Once you have faced an auto insurance lapse, you should be more careful that you are not making the same mistake again. Proceed below for few tips to avoid a future insurance lapse.
● Checking out your information on the Driving License and Registration Paper is correct.
● Submitting the vehicle plates that you do not own it.
● And, timely response to the Insurance Agents.
Related: A Complete Guide on Car Insurance in UAE
Hope you all follow the above tips if your auto insurance plans got lapsed. Any other relevant factors to avoid Car Insurance Lapses? Let us know through the comment section below.